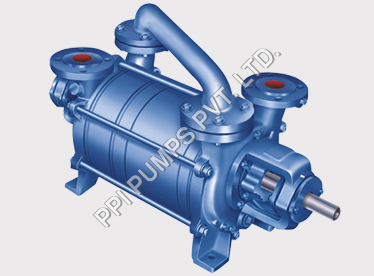 Cast Iron Two Stage Vacuum Pump
Product Code : 05
Price And Quantity
Unit of Measure

:

,
Product Description
Being I.S.O 9001:2000 certified company; we are instrumental in manufacturing and exporting Cast Iron Two Stage Vacuum Pump. In the strict supervision of our expert quality analyzers, these pumps undergo various quality tests to ensure superior quality and flawless performances. Manufactured in accordance with the prevailing industry standards, these pumps are widely used in paper, cement, food and oil industries. Easy installation, rust proof finish and high durability are the distinguished features of our developed Cast Iron Two Stage Vacuum Pump.
When operating or designing a vacuum pump, it becomes imperative to comprehend the working. The pump is classified as primary pump and secondary pump or booster pump. Pressure range is distinguished in every pump sort; every sort employs a unique advancement. In addition, each vacuum pump sort comes with numerous benefits in terms of pressure limit, handling requirements, cost and flow rate. Despite their outline, the fundamental rule of working is similar. Our Cast Iron Two Stage Vacuum Pump works by expelling the particles of air and different gasses against the vacuum chamber. While the chamber pressure is decreased, expelling extra particles becomes exponentially difficult to evacuate. Subsequently, a mechanical vacuum system works over a segment of an exceptionally expansive pressure scope.
The distinctive sorts of pumps can then be partitioned into:
Backing or primary pump: Low and rough vacuum pressure scopes
High vacuum or secondary pump, Ultra-high vacuum pressure scopes
Terminology

The two advances utilized by our vacuum pumps are gas capture and gas transfer. Transfer pump works by exchanging the gas particles by either positive displacement or momentum exchange. A similar number of gas particles are released as penetrate it, after that the gas is somewhat above environmental pressure when removed. The proportion of the fumes pressure to the least pressure acquired (delta) is alluded to as the pressure proportion. Transfer pump of kinetic type operates on the standard of momentum transfer by controlling gas towards the outlet of pump as to offer enhanced possibility of an atom moving towards the pressure utilizing rapid cutting edges or presented vapor. It usually do not possesses sealed volumes yet can obtain elevated compression proportions at least pressures.

Types of Pumps

The distinctive pump advances are regarded either dry or wet sort pumps, contingent upon regardless of whether the gas is presented to water or oil amid the pumping procedure. Wet pump outlines utilize water or oil for grease and sealing as well as the liquid can debase the cleared (pumped) gas. Dry pumps possess no liquid in the cleared volume and depend on closed clearances between the static and turning pump components, a diaphragm or parch polymer (PTFE) seals to isolate the pumping component from the cleared gas. Albeit dry pumps may utilize grease or oil in the pump bearings and gears, it is fixed from the cleared gas. These lessen the danger of system tainting and oil transfer contrasted with wet pumps. Our vacuum pumps are not effortlessly changed over from damp to dry by essentially transforming pump from a damp to a dry sort. The piping and chamber can be debased by the damp pump and should be altogether replaced or cleaned; else, they will taint the gas amid future task.

Specifications: VWS II - Series

Suction Capacity :75 to 550M3/Hr

Power Consumption : 3.7kW to 18.5kW

Maximum Vacuum : 720mm of Hg (G)