Single Stage Liquid Ring Vacuum Pumps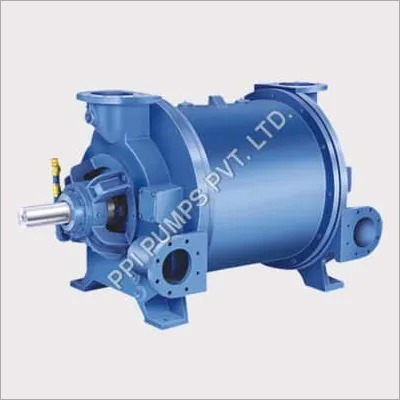 Single Stage Liquid Ring Vacuum Pumps
Price And Quantity
Product Specifications
50-70 Kilograms (kg)

Stainless steel, Mild Steel
Product Description
Single Stage Liquid Ring Vacuum Pump is a versatile pump which is introduced in the industry to manage applications of gas, fluid, water, and air movement. This kind of pump is designed and developed based on the liquid ring technology that ensures high end transfer solutions to industries. This kind of pump can be used in many applications, for instance:
Mineral beneficiation
Moisture extraction
Vacuum filtration
Mineral ash handling
Water removal from pump in paper processing
Available in operating capacity, ranging from 5000 m3/hr to 22000 m3 /hr, single stage liquid ring vacuum pump finds use in power plant, distillery, washery, sugar mill, oil refinery and coal mine. Industries in which it is used are fertilizer, textile, railway, pharmaceutical, chemical, paper and many more.
Behind the success of the company is technically qualified expert team. The team produces durable, easy to operate and maintain pump with only one rotating part. Steel and cast iron are utilized in the production of vacuum pump for lamination plant, paper industry, petrochemical, sugar, food processing, oil and other industries. Our company has the capacity and capability to make available liquid ring vacuum pump without any delay.
The liquid ring vacuum pump has an impeller with cutting edges that is interlinked to an internal center point, located in the body of cylindrical shape, yet offset against the middle. The impeller positions between the two end plates called as port plates that have created holes cut in them acknowledged ports. In order to make vacuum, the pump requires a fluid (likewise called the sealant). It is essential to incompletely load the pump with fluid sealant before beginning. The fluid can be any of the choice, it can be water, solvent or oil, contingent on the usage. Once the pump is still, impeller cutting edges are emerged in the sealant fluid. When the pump starts, impeller uses outward pressure to suspend the fluid sealant to the outer body walls, that creates a liquid ring at exterior body walls. As impeller is offset against the body, a few blades are drenched in fluid, while some are not. The empty space of liquid ring vacuum pump lacks fluid and closed between the sealant and impeller blades, known as impeller cell. One impeller cell against the pump highest point, counter-clockwise, the fluid goes down against the center point, operating as a fluid piston to create a bigger cell. The pump suction through inlet port at impeller sides draws in air, gases or vapours. Following impeller cell goes in the channel port and towards the release port; the sealant fluid is constrained back in the impeller center point, that makes the pressure step. As impeller cell enters in the release port, the pressure is at its highest point, and the gasses, alongside some fluid sealant are exhausted through the release port into environment. Though, the fluid sealant is extremely turbulent that releases along with gases.
Applications:
Pulp & Paper
Sugar Mill
Power Plant & Process Industries
Specifications Of Single Stage Liquid Ring Vacuum Pump:
PL 904 - Series
Suction Capacity : 4500 to 22000 M3/Hr
Power Consumption : Maximum Vacuum 700mm of Hg (G)
Capacity : 500 M3 / Hr. to 17000 M3 / Hr
K.W / H.P : 15 kW (20 H.P) to 485 kW (650 H.P)
Vacuum : Upto 700 MM Hg.
Discharge Pressure : Up to 1.5 Kg/cm2


Applications : Pulp & Paper, Sugar Mill, Power Plant & Process Industries.



Technical Details

Trade Information
Cash in Advance (CID) Cheque Cash Advance (CA)

1 Per Day
Australia Western Europe Middle East Central America Africa South America Asia Eastern Europe North America

All India