Twin Lobe Root Blower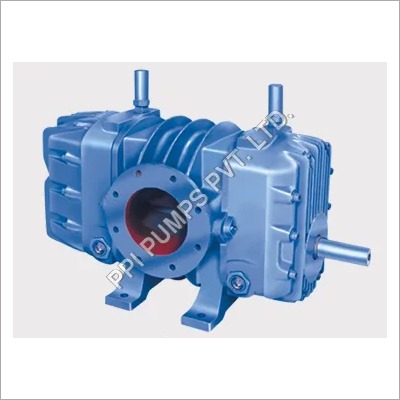 Twin Lobe Root Blower
Price And Quantity
Piece/Pieces

15000.00 - 50000.00 INR
Product Specifications
Product Description
Over 37 year of experience in this industry, we are regarded as one of the prominent manufacturer and exporter of Twin Lobe Root Blower. Precisely engineered by our skilled professional in compliance with industrial standards, these root blowers are highly appreciated among our clients for their air cooled design, special sealing arrangement and continuous air flow. Finds usages in pollution control plants, fertilizer industries, paper industries, sugar industries and cement industries, clients can get Twin Lobe Root Blower from us at economical prices.
Specifications Of Twin Lobe Root Blower:
PR Series (Air Cooled)
Capacity 100 to 8000M3/Hr
Max. Discharge Pressure 1 kg/cm2 (G) up to
Due to the advancement of technology we have been able to manufacture energy efficient and innovative twin lobes roots blower. Due to these blowers a breakthrough has occurred in the manufacturing of creation of pneumatic systems and others.
Basic Instructions for Operating Twin Lobe Blower
These pumps are capable of acquiring a higher efficiency that too at medium compression ratios of nearly 1.1 to 2
These have found the best application where there is consistent flow of fluid or liquid at constantly fluctuating discharge pressures like water treatment plants and back washing pneumatic transmission systems
The function of these includes rotation of lobes that displaces the air to the side of exit and creates a partial vacuum which results in air drawl from the inlet. This machinery generates air free from any oil and also produces a consistent flow rate which is dependent on the rotation speed.

Product details
| | |
| --- | --- |
| Driven Type | Electric |
| Material | Cast Iron |
| Voltage | 220 V- 440 V approx |
| Operation Mode | Automatic |
| Frequency | 50Hz-60Hz |
| Flow | Vertical & Horizontal |
Technical Characteristics Of Twin Lobe Root Blower:
The volume of the air intake is directly proportional to the pump speed in a twin lobe roots blower. At input power changes in direct proportion to the difference of pressure in the blower. The temperature in the blower increases in direct proportion to the pressure at the suction and compression ratio, and the outlet is influenced by the conditions of the system.
Selection of Discharge Lines
Several considerations need to be made at the time of determining the size of the delivery pipes. Considerations include:
A velocity of 15- 20 meter per second needs to be maintained. Augmented velocity of air can cause greater friction losses lowering the effectiveness of pumps.
Smooth pipes should be taken into use as by air velocity and the surface conditions of pipe the frictional losses are determined.
Quick changes in direction lead to losses in energy and so there is a need to avoid bends in twin lobe lower pumps.
Hasty changes in the size of the piping cause loss of velocity because of the element of turbulence. Quick constriction increases flow separation and velocity.
Fault Diagnosis
To avoid extensive damage the identification of problem early is really essential.
Unusual vibration or sound in the twin lobe rotators is an indication of a developing problem. This may be due to rubbing of impellers, misalignment of shaft, loose couplings and worn out bearings.
Lacking Air Flow: This may occur due to wrong direction or low speed of rotation.
The poor performance of pump may occur because of leakages in discharge lines or shipping of driving belt.
The blower may get jam in a short period of running signaling high differential pressures and poor clearances, which may cause overheating.
High power consumption is also a problem like a chocked discharge silencer and suction filter, changes in functioning parameters and malfunctioning of discharge valves.
Overheating of blowers and gears may result from inadequate or poor lubrication.
Development of Internal Leakages

Leakages of oil may result due to damaged seal or too much oil. To prevent this oil levels need to be corrected and damaged seals should be repaired. Regular maintenance needs to be done for great performance.
Construction Features of Twin Lobe Roots Blower and its Technical Excellence
Blowers for Industrial Health Fitness
For pumping out gases the use of blowers, centrifugal fans and compressors is made. It is used extensively in several industries for regulating air pollution. Beside the fact that these blowers are of different kinds and each kind is made for a particular purpose. Twin lobe roots blowers are the one among them which is used widely in industry for the below given advantages:
Excellent performance even at moderate compression ratios
Find application at places where consistent pressure or discharge is required
It is recommended highly in aeration, pneumatic conveying system, aquaculture aeration, and cement plants
Twin Lobe Roots Blower-Basic Equipment Construction and Mechanism
Twin Lobe Roots Blower comes under the positive displacement blowers. It is manufactured as per the profile using a pair of lobes. These are also termed inside the casing as rotors rotate. In the twin lobes with the assistance of external power resources, one lobe is used for driving and with the help of gears other lobe is driven. This mechanism begins in terms of two lobes rotating in two different directions. They run at consistent speed and eliminates gases from the circumference.
Displacement of Gases and Vacuum Creation

Since the twin lobes rotate in different directions the air travels inside the cylinder which is forced outside it by the pressure generated by rotors rotation. Every rotation assists in removing volumes of gases and then the rotation of twin lobes prevents the air entering inside the cylinder therefore creating inside the machine a vacuum space and through the discharge system the air disposal is continued. The rate of gas flow depends on the rotating operation speed of the lobes. One of the primary advantage of using twin lobes roots blower is that it is an authentic option for acquiring constant flow rate no matter what are the changing discharge conditions are, as it mostly depends on the functioning speed of the lobes.
Roots Blowers from PPI Pumps
PPI Pumps are serving various industries with distinguished sorts of vacuum pumps, pump spare parts and blowers. In terms of industrial applications, the blowers are customized by us. We offer twin lobe roots blower even with the capacity of 100 to 8000 Cubic Meter / Hr which can discharge as much as 1kg/cm2 pressure.
Trade Information
Cash in Advance (CID), Cash Advance (CA)

1 Per Month
3 Week

Africa, Middle East, Western Europe, Eastern Europe, South America, North America, Central America, Australia, Asia